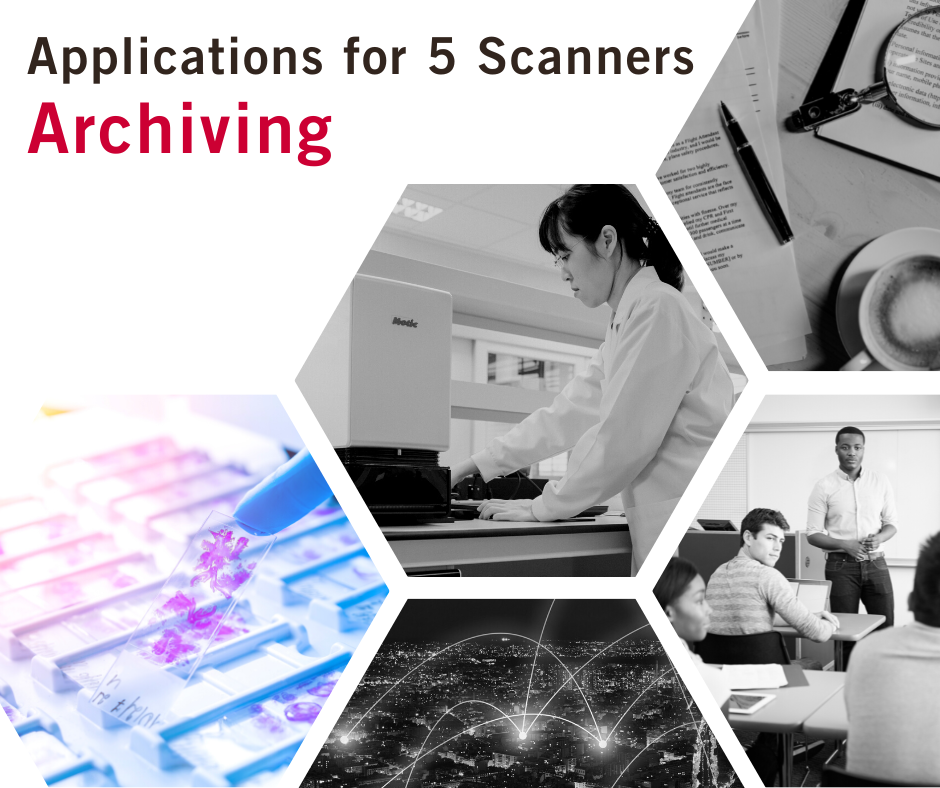 This post is part of an ongoing series exploring how your lab can utilize Motic's 5-Scanner Anniversary Special to make the leap to digital pathology. 
Today, our focus is: Archival
Using digital slides in archiving is probably the most obvious way for slide scanners to be utilized: take the hundreds of thousands of glass slides out of the warehouse and convert them to unbreakable, non-degrading, weightless digital files. Now anyone with access can view, share, annotate, or compile datasets anywhere, anytime from their computer. Easy! 
So why hasn't everyone done this already? Three reasons: cost, time, and process. Scanners are not cheap, archiving even 100,000 slides will take months on the fastest scanner (not to mention dedicating technicians and space to run this project), and someone still needs to organize all the slides for deidentification and governed access after they are scanned. It can be daunting to do digital archiving at full scale right away, and pointless to spend money archiving only 100 slides – but there is a sweet spot for a first adoption project. 
With our 5 Year Special, which includes the bundle of  one MoticEasyScan Infinity and four MoticEasyScan One), Motic aims to finally realize your first digital archiving project. Our throughput of 1,000 slides per week can offer enough processing power to build a significant first dataset, without breaking the bank.  
For any newcomers, however, it may bear repeating some of the key advantages of using digital pathology for archival purposes! Here they are: 
Here are three possible applications for archiving: 
Establishing virtual slide libraries

:

Virtual slide libraries provide pathologists with an

(obviously)

efficient means of organizing and categorizing slides, which makes it much simpler for researchers to

locate

specific slides.

Gone are the days of asking

technicians to scour basement storage rooms

to find

some old or rare

slides

for your area of study

;

every

slide

every made at the lab

is now at your fingertips

, and you can put them in as many different datasets as you want

!

 

Preserving your slides

against time

:

Digital slides

don't

break

or degrade

. Digitizing

any

slides

in your collection

protects them from

further

degradation

over time

and ensures they can be accessed and studied for years to come.

It also means that studies can be performed across

much greater

historical

timespans than before, where the glass slide would put a hard floor on what your oldest

data point

could be

.

 

View archived slides anywhere

:

With a digital archive

, pathologists can view archived slides anywhere

, anytime

.

This includes sharing slides with collaborators without needing to risk

freight damage to the slides,

and

, crucially, being able to

link

annotations and

notes directly to each slide.

In the same way that cloud

documents have revolutionized collaborative work in the office,

digital slides on the cloud (or in a server)

will revolutionize

collaborative work in pathology research.

 




 

BONUS!! 

Everyone can use it: This may sound obvious, but with a digital collection, anyone can access any slides in the library to build their own collection, and it will not affect or bother anyone else. Traditionally, when a glass slide is pulled from archive and put in, say, a teaching collection, that it – it can't be used anywhere else. Not so for digital slides. The best case slides can be put in every collection, and used simultaneously for dozens of different projects by different people. Imagine how much more you could do with that! 
How to use your 5 Scanners: Use the high-volume MoticEasyScan Infinity 60 as your main workhorse, archiving up to 1,000 slides a week. The includedMoticEasyScan Oneswould be perfect companions in the lab to handle especially challenging stains or rescans, deployed for alternate applications, or just kept as backups in case you spill coffee on the Infinity. With this approach, you can efficiently digitize your collection and rest assured that your slides are well-protected for future use.
Contact us or book a demo to see for yourself how digital pathology can transform your lab today!